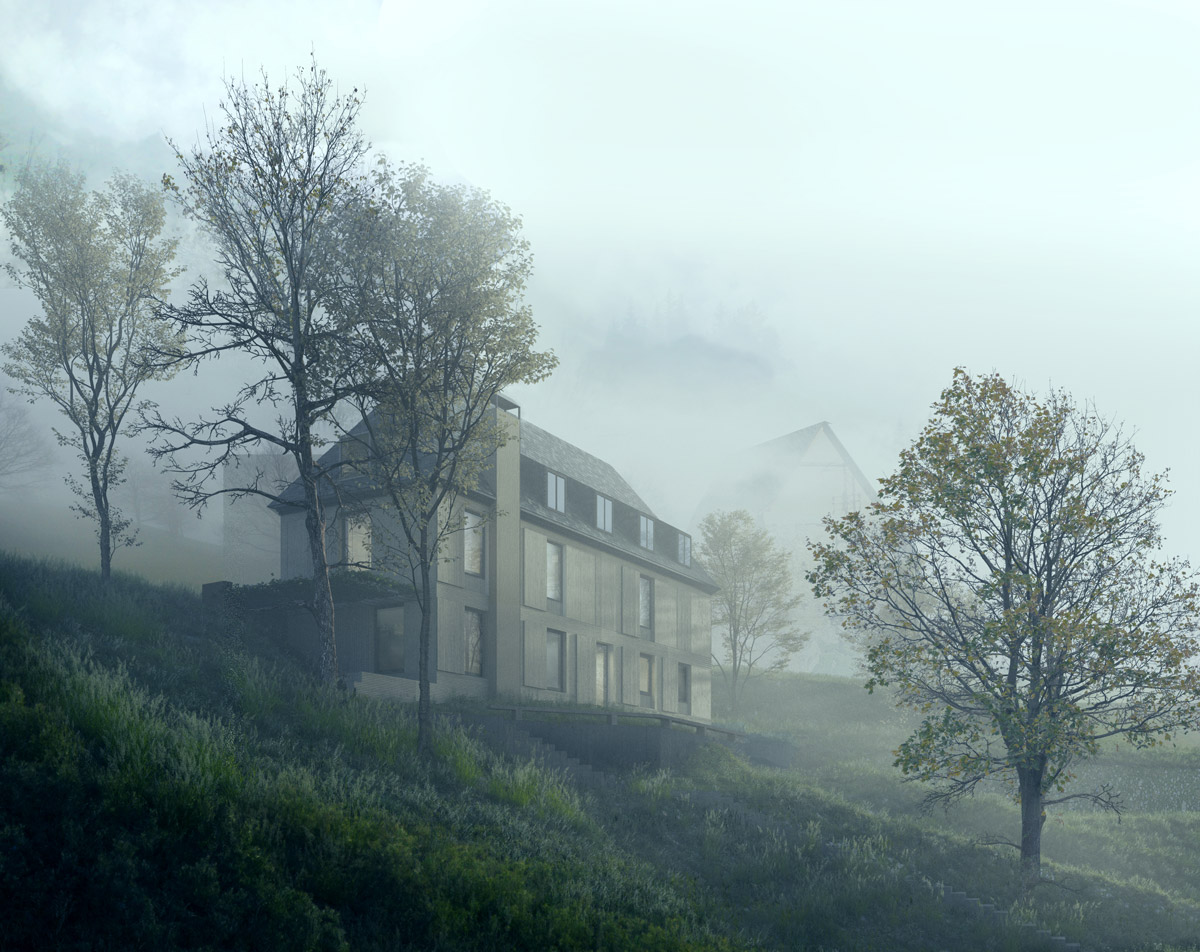 A refuge imbued with tradition.
The terrain, with its location at an altitude of 1275 metres, breathtaking views, and half-buried within the mountain side, conditioned the solutions for this house, which was conceived as a centre for family get-togethers like the old farmhouses where any excuse was good to celebrate festive get-togethers around the table.
Its location, at the entrance of the 'camin reiau'- a path that has connected these Pyrenean villages for centuries-, led us to design a house that could welcome all its visitors. We recovered the most classic morphology in order to simulate the desired symmetry and accentuate the oldest traditions of lime plaster and cornices that former houses used as a contrast to the huts and barns that did not allow for any type of decoration.
The usual debate over the preservation of heritage versus modernity was resolved on this occasion by using subtle details such as stucco window shutters, apparent but actually non-existing symmetry, and exaggerated vertical proportions for the windows.
We achieved, at first glance, the look of a traditional village house, but upon closer inspection, it reveals itself as an interpretation of the homes that have dotted these mountains over the centuries.
The interior design is aimed at reinforcing this duality between tradition and modernity thanks to the use of soft tones and noble materials which could be found in the natural environment and which allude to the definition of a home. To that extent, the layout meets the needs of the 21st century but introduces finishes and solutions that have been used since time immemorial.
The interior spaces are centred around the views, the chimney, and the hearth (kitchen) similar to how it was done in the past. We sought to integrate finishes, tones and sensations that invite you to enjoy the gentle snowfalls of January and the blossoming of spring and to experience the habitual calm of the village people.